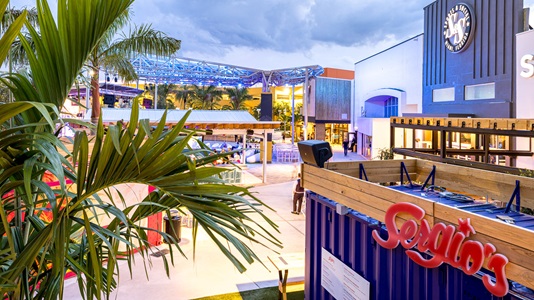 Opening at Vivo! Dolphin Mall: Sergio's Cuban American Kitchen
The new dining and entertainment space from Taubman Realty Group and Live! Hospitality & Entertainment opens this summer
This week, Taubman Realty Group and Live! Hospitality & Entertainment, a division of the Cordish Companies, announced the opening of Vivo!, a new 62,000-square-foot dining and entertainment space opening this summer in Miami. Vivo! will open at the Dolphin Mall, located at 11401 NW 12th Street.

Vivo! Dolphin Mall will be home to a new outpost of Miami's own Sergio's Cuban American Kitchen. Founded in 1975, Sergio's is an iconic Miami chain with locations throughout South Florida.

"It's a great opportunity to highlight that area," Sergio's CEO Carlos Gazitua told What Now on Thursday, pointing out Dolphin Mall's high percentage of international visitors. "The Cordish Group has done a phenomenal job… and local brands, along with music and entertainment will make it a really great spot."

"Cuban American Kitchen's cooking is based on the philosophy of simple, fresh and homemade," reads a recent press release. "[T]he beloved restaurant features items such as Pan Con Lechon made with grilled pork, onions, mojo sauce and Cuban bread; Croqueta Preparada made with ham, pork, two croquetas, Swiss cheese, pickles, mustard and Cuban bread and Frita & Fries made with a chorizo and beef burger, onions, string potatoes, ketchup, order of fries."

Gazitua said the Vivo! location will have a streamlined menu with a particular focus on handhelds. The location will debut sandwiches not yet seen at any Sergio's location, including sliders with ropa vieja and sweet plantains.

"It's a game changer," said Gazitua. "This kind of project has been seen in some other places, but Miami hasn't seen it yet.