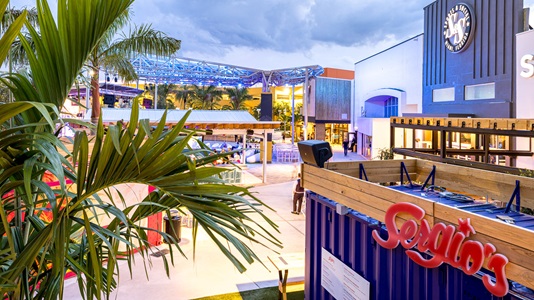 A New 62,000-Square-Foot Entertainment Hub Is Coming To Dolphin Mall This Summer
Vivo! Dolphin Mall will offer entertainment, dining and nightlife with local favorites and new additions like PBR Cowboy Bar, a western bar with a mechanical bull!
Miami is widely known for its unbeatable nightlife and endless options for entertainment. And well, it's only a matter of time before another spot pops up! The city's largest outlet mall, Dolphin Mall, is soon getting the ultimate hangout spot with Vivo!, a destination for premium entertainment, food, drinks and first-class hospitality in the city.
Vivo!, literally translating to "lively," will live up to its name with a lineup of local favorites like Sergio's Cuban American Kitchen and lasso-ing in new spots like PBR Cowboy Bar, which is arriving to Florida for the very first time. The dining and entertainment space will be approximately 62,000-square-feet, including an expansive 30,000-square-foot al fresco plaza for live performances.
Signature spots will include Sports & Social, an incomparable sports bar with multiple bars, live music, nostalgic arcade games and, most importantly, an impressive 50-foot LED screen. Found in other places like sports stadiums and casino resorts, the Dolphin Mall location will have DJs, live fan cams, competitions and games on game days in addition to a deliciously tempting menu conceived by James Beard Award Nominee Chef John Suley.
Anchoring the Vivo! complex will be PBR Cowboy Bar, bringing with it an authentic Country Western spirit married with big-time entertainment and nightlife. The result of a partnership with the world's leading bull riding organization, Professional Bull Riders, visitors can expect high energy country music, two bars and private VIP tables complete with a mechanical bull.
If PBR Cowboy Bar sounds familiar, it might be because there are 12 locations across the country and this would be the first in Florida. Excitedly enough, you can even expect some of the biggest stars in country music as other venues have welcomed such as Luke Bryan, Old Dominion and Justin Moore.
Musical acts, both local and national, will also have the chance of performing at the plaza, a new addition to Dolphin Mall as part of Vivo! With a stage and a 24′ LED screen for premium viewing, the space will host up to 2,000 people for concerts and feature a Blue Moon Garden Bar and a Miller Lite Bar, as well as various lawn games and plenty of lounge seating.
In a casual "backyard" space, you can expect to have bites from Sergio's and drinks from Crush Bar, which is landing in South Florida for the first time. There, you can try Maryland's signature Orange Crush drink (without the need to travel!), which takes freshly-squeezed juice and your choice of spirit over crushed ice.
Vivo! Dolphin Mall is being developed and brought by Taubman Realty Group and Live! Hospitality & Entertainment, a division of The Cordish Companies. Although no exact date has been announced yet, the new addition is slated to open this Summer 2023. Dolphin Mall is located at 11401 NW 12th Street, Miami, FL 33172. For more information, visit www.vivodolphinmall.com.