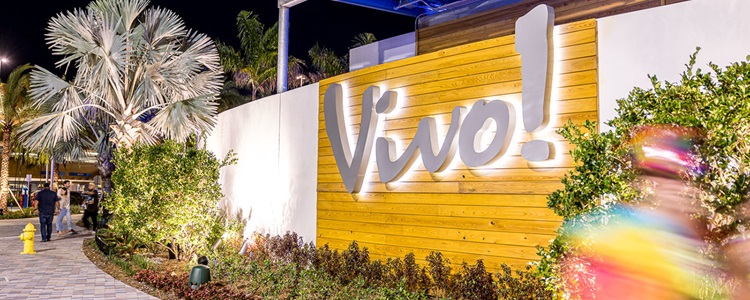 ENTERTAINMENT
VENUE OPENS AT
MIAMI'S DOLPHIN
MALL
VIVO! entertainment venue opens at Miami's Dolphin Mall
Venue has new bull riding-themed bar, games and more

MIAMI-DADE COUNTY, Fla. – Multiple restaurants and a plaza to host concert events are now open at the Dolphin Mall in Miami-Dade County.

A new event space called "VIVO!" which means "live" in Spanish, is hoping to take visitors' shopping experience to the next level.

While some malls in South Florida are losing stores and closing their doors, Dolphin Mall may have found a solution to prevent that from happening.
"We have been fortunate enough to be able to capture the lows with tourists," said Madelyn Bello Calvar, marketing sponsorship director at Dolphin Mall.
The mall plans to add a brand new 62,000-square-foot entertainment space that management says will elevate them to "another level."
"The fact that we're adding this just elevates us to another level with more entertainment and more restaurants," said Bello Calvar. She said the mall is adding not just one, but THREE entertainment spaces to enhance visitors' experience. The entertainment space is expected to consist of a sports and social area that has arcade games for all ages to take advantage of.
Another space will consist of a 50-foot LED screen to watch all your favorite teams play. And the third will be the food and drinks area.
Local 10′s Alexis Frazier also spoke with Chef John Suley, of Live Hospitality, who said he is aiming to take their spicy tuna bites and bar food to the next level.
"We must've tested this recipe 15 times. It looks like a very simple thing," said Suley. "But it's constantly tasting, evolving, evaluating and figuring out how can we make this the best dish for our guests to have on a normal basis."
Suley believes that his new menu will receive a lot of positive reviews. "I think the whole menu is special," he said. "I think it's something for everyone."
Attendees will also have the opportunity to check out PBR Cowboy Bar, which will bring an authentic country western spirit to Miami.
The bar features two bars and VIP tables and a mechanical bull! But that's not all the event space will feature.
"In addition to our amazing sports and social and PBR, VIVO! has a concert plaza outside," said Judy Moore, a VIVO! representative. Outside of the event space, you can find a local favorite, Sergio's Cuban American Kitchen, along with a stage for concerts and events.
"VIVO! should bring an entertainment factor that we haven't seen in this area of Miami ever," said Moore. There are different events going on each weekend.